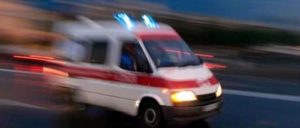 Saturday 6 May 2023 
A doctor in Famagusta was seriously injured by a patient today who he had been treating in a private clinic, Yeniduzen reports.
Dr. Sadrettin Tuğcu, a urology specialist,  was stabbed in the stomach by his patient 32-year-old Ç.E., who claimed that he had not given him the treatment he wanted.  It later emerged that the same man had attacked a lawyer in Nicosia with a knife last Thursday. 
President of the Bar Association Hasan Esendağlı issued a statement on social media saying that the suspect had not been identified for three days, despite the fact that the attack was filmed on security cameras.
Esendağlı said, "The negligence of the police, who had not detected the suspect for three days and did not do what is necessary, after the emergence of today's result is not acceptable".
Dr. Tuğcu was taken to the hospital with serious injuries.