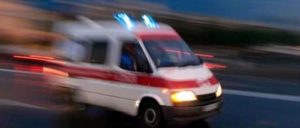 Monday, 23 October 2023
A 79-year-old man died following a traffic collision on the Kyrenia–Alsancak ring road, Kibris Postasi reports.
According to a statement from the Police Press Office, at around 7 am today, Mehmet Gürtunç (79) was heading south on Şht. Orhan Durusoy Street. When he reached the Eziç traffic lights junction he attempted to cross the ring road to Bahar Sokak while the lights were still red. His vehicle was struck by a car driven by Yusuf Temel (21) who, according to the police, was driving at speed and without due car, on the ring road towards Alsancak.
Mehmet Gürtunç died at the scene of the accident, while Yusuf Temel, who was injured in the accident, was taken to Dr. Akçiçek State Hospital in Kyrenia where his treatment is still ongoing.
In a separate report by Kibris Postasi last month, it was stated that one of the reasons for traffic accidents, apart from poor driving standards and badly lit roads, was that there are no health checks when licences are issued. Consequently, there are numbers of people, who are not medically fit to drive safely on the road. [Ed.]