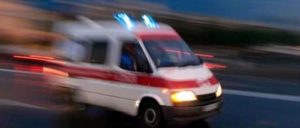 Saturday, 16 September 2023
A driver was arrested in connection with a serious accident which took place on the Değirmenlik-Kyrenia mountain road at around 03.30 on Friday morning.
Deniz Yıkar, the driver of the vehicle accused of causing the accident, was arrested and brought before the court.
According to a police statement, he was driving at speed towards Nicosia when a driver coming from the opposite direction overtook a military convoy and collided with Yikar's vehicle.
The driver Ural Erel (48), who was overtaking, was seriously injured and remains in intensive care while his passenger Arjin Erel (19) only sustained minor injuries. Yikar (25) and his passengers were all taken to Nicosia State Hospital and treated for minor injuries and discharged.
The police stated that due to the ongoing life-threatening condition of Ural Erel, the nature of the crime committed by the suspect is likely to change, his voluntary statement should be confirmed and the camera footage at the scene of the accident scene should be taken and examined.  The police requested a three-day police detention for investigation purposes in the first place.
Judge Hazan Aksun, who evaluated the testimony, ordered the suspect to be detained in police custody for three days pending investigation.