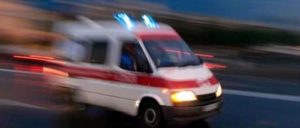 Wednesday, 12 April 2023
A four-year-old boy was injured when he was struck by a careless driver in Alayköy, Yeniduzen reported.
The accident took place at around 5pm on Atatürk Caddesi in Alayköy on Wednesday.
The driver Cemile Özçete hit the little boy who was crossing the road.
The boy Rıdvan Efe Aladağ was taken to Nicosia State Hospital.
The report makes no mention of whether or not the boy was accompanied by an adult.