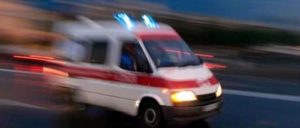 Friday, 19 May 2023
A 28-year-old man died after a fall while he was doing decoration work on the stairs, Yeniduzen reports.
Taner Altınkaya (28), who was working in a cafe in Gönyeli fell around 3 metres to his after losing his balance. 
He was taken to Nicosia State Hospital, however, despite all attempts, he could not be saved.
The police are investigating the accident.
UPDATE: According to a report by Kibris Postasi, a postmortem revealed that Mr. Altınkaya had sustained a cranial bone fracture and died from a brain haemorrhage.