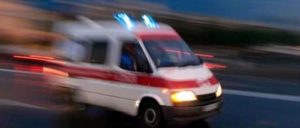 Sunday, 23  July 2023 
A pedestrian was injured in a hit and run accident in Famagusta last night, Yeniduzen reports.
According to the Police Press Officer's report, 45-year-old Yasin Ateş was crossing Deniz Piyade Street at around 9.30pm on Saturday night, when he was hit by a car which then failed to stop.
Mr. Ateş  was taken to Famagusta State Hospital where he was diagnosed as having sustained a fracture to his right collarbone.
The vehicle and its driver have not been identified and the police are continuing with their enquiries.