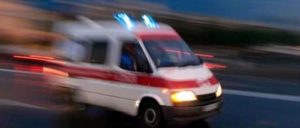 Tuesday, 21 November 2023
A man was rescued after he was trapped under the earth in a pit he was digging out a dairy farm in Balıkesir, Yeniduzen reports.
Hilmi Mutlu (49) who was digging a slurry pit, became trapped after the retaining boards gave way and the soil collapsed on top of him. He was rescued by the combined efforts of firefighters from Nicosia and Civil Defence teams.
After being released from the rubble, he was taken to Nicosia State Hospital where he remains for treatment.