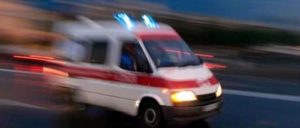 Sunday, 15 January 2023
A 32-year-old man was seriously injured after falling over 11 metres from the roof of an apartment building, Kibris Postasi reports.
According to the Police Press Officer, Sunnet Achilov fell from the top of an apartment block in the Marmara area of Nicosia onto concrete flooring at around 2.30 am this morning. 
The reason for his fall is not known.
He remains under observation in the intensive care unit of Nicosia State Hospital.