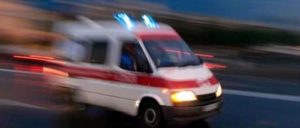 Sunday, 17 September 2023
A motorcyclist was seriously injured and one person was arrested following a traffic accident that occurred on the Kyrenia – Alsancak ring road this afternoon, Yeniduzen reports. 
According to the Police Press Office, the accident occurred today at around 14.50 on the Kyrenia – Alsancak ring road. 
Kübra Yıldız, (26), who was heading towards Alsancak, lost control of the steering wheel near the Karaman (Karmi) roundabout and hit the steel barriers separating the central reservation, then swerved uncontrollably to the left of the road and hit a motorcycle driven by 27 years old Muhammad Ahmad who was travelling in the same direction. 
Mr Ahmad, who was seriously injured as a result of the accident, was first taken to Dr Akçiçek Hospital in Kyrenia, following which, he was transferred to Dr Burhan Nalbantoğlu State Hospital in Nicosia where he remains under observation in the intensive care ward. 
Ms Yıldız, the driver who caused the accident, was slightly injured and after being discharged following treatment at Dr Akçiçek Hospital, she was arrested. 
The police have begun an investigation into the incident.