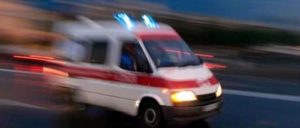 Saturday, 26  August 2023
A motorcyclist was hit by a car while overtaking on the Iskele-Ercan main road last night, Yeniduzen reports.
The motorcyclist was struck by a car driven by Soheil Elmasry (52) who crossed the centre line to overtake the vehicle in front, hitting the oncoming motorcyclist. who was seriously injured in the accident.
He remains in Nicosia State Hospital for treatment.
The police investigation is ongoing.