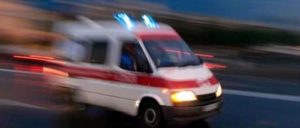 Wednesday, 15 November 2023
A 15-year-old pedestrian who was crossing the road was hit by a police motorcyclist on escort duty, Yeniduzen reports.
The accident occurred at around 3.50 pm on Tuesday on Dr. Burhan Nalbantoğlu Avenue in Nicosia.
The police officer hit the pedestrian on the approach to Levent College. 
The pedestrian was taken to Nicosia State Hospital and later discharged after receiving treatment.
A police investigation into the incident has been opened.