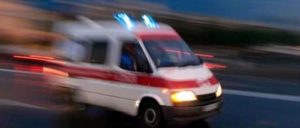 Tuesday, 21 November 2023
A serious accident occurred on the Çatalköy-Kyrenia main road with one person badly injured, Kibris Postasi reports. 
The accident happened when Emre Şahin (41), driving towards Çatalköy, attempted to overtake the vehicles in front of him at the Ozanköy junction. While doing so he hit a pedestrian Artene Gatmaitan (42) who was walking on the shoulder, causing serious injuries.
The pedestrian was taken to Dr. Burhan Nalbantoğlu State Hospital in Nicosia for treatment. 
It was noted that the driver, Emre Şahin, who caused the accident, was under the influence of 301 per mg/dl of alcohol. The driver, who was slightly injured, received treatment at Kyrenia State Hospital and then was arrested.