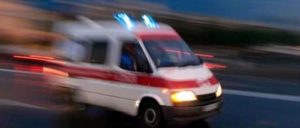 Thursday, 23 March 2023
A careless driver was arrested after he struck a pedestrian who was crossing a road in Famagusta, Yeniduzen reports.
The driver, Recep Keser (58) was driving along İsmet İnönü Boulevard in Famagusta while under the influence of 209 mg/100ml of alcohol at around 6.45 pm on Wednesday evening.
Cumali Acar (43), who was crossing the road, was seriously injured after being struck by the car driven by Mr Keser. He was taken to Famagusta State Hospital where he remains for treatment.
The driver, Recep Keser, was arrested.