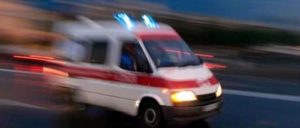 Sunday, 13 August 2023
Two pedestrians were injured in a traffic accident in Kyrenia around 10.30 pm on Saturday, Yeniduzen reports.
The driver, Ysufu Sedetalun (24) lost control of his vehicle on Semih Sancar Street in Kyrenia. He hit the curb stones in front of Kyrenia Auto Gallery, struck a street sign and electricity pole, then hit two pedestrians.
The two pedestrians named as Emir Adishev (22) and Diova Nomanova (24) were taken to Nicosia State Hospital and remain under observation. The driver of the vehicle was injured and taken to the surgical ward at Dr. Akcicek State Hospital.
In a separate report, Kibris Postasi writes that seven people, including two young children were injured in a traffic accident in Famagusta on Friday.
According to the statement made by the Police Press Office, at around 8.30 am on Friday, a truck driver driving on Gazi Mustafa Kemal Boulevard in Famagusta, carelessly entered the Dedeoğlu roundabout, without giving way to approaching vehicles. 
His truck collided with a vehicle driven by Melek Hiçyılmaz (43), and carrying passengers named as 8-year-old Yağmur Nisa Nemutlu, 9-year-old Semih Hiçyılmaz, Şerife Hiçyılmaz (63),  Nemutlu, Sefa Nemutlu (34), Medine Nermin Nemutlu and Betül Nemutlu (35), all of whom were injured in the accident, and were taken to Famagusta State Hospital where they are still being treated.
Due to the impact of the collision, the saloon car involved in the accident caught fire under the bonnet. Fire brigade teams  extinguished the fire. The engine compartment, bonnet, front lights, fenders and bumper of the car were completely burnt as a result. 
An investigation into the accident is ongoing.