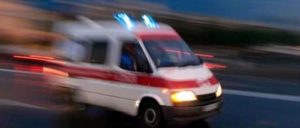 Tuesday, 31 October 2023
Two people were injured when they jumped off a balcony to evade arrest during a police crime prevention team raid, Yeniduzen reports.
According to a police press statement, five people were at the property raided in Nicosia, two of whom jumped from the balcony. They were both taken to Nicosia State Hospital suffering from fractures.
Police discovered a cigarette containing cannabis at the property.
It was also discovered that four of the people at the property who were living in the country without permission.