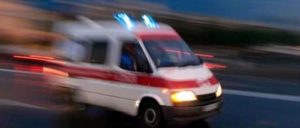 Saturday, 4 March 2023 
A woman sitting at a cafe table on the pavement was injured by a car which struck the kerb, Yeniduzen reports.
A car driven by Samet Akrep (24) hit a cafe customer when he lost control of his vehicle in front of the Lefkeli'nin Yeri cafe in Nicosia at around 3pm on Friday.
The customer was injured and taken to Nicosia State Hospital where she remains. The driver, Samet Akrep was also injured but discharged following treatment.
He was arrested by the police.