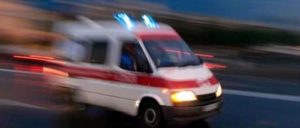 Saturday, 10 June 2023  
A 52-year-old woman was taken to hospital after being injured in a hit-and-run traffic accident, Yeniduzen reports.
Ayşe Göktemiz (52) was attempting to cross the road near the Freedom Primary School in Güzelyurt at around 11pm on Friday night when she was hit by a car. The driver fled the scene of the accident.
Ms. Göktemiz was injured and taken to Nicosia State Hospital hospital.
The police stated that they do not know the identity of the driver and are continuing to investigate the incident.