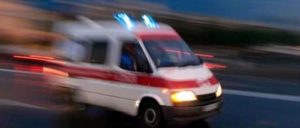 Sunday, 8 October 2023
A motorist was seriously injured following an accident on the Yenierenköy – Dipkarpaz on Friday night, Yeniduzen reports.
According to the police report, Elif Bülbül (30), was driving towards Dipkarpaz on the Yenierenköy – Dipkarpaz Main Road at around 22:40 on Friday evening, when she lost control of the steering. Her car veered off the road and hit the pavement. The vehicle then crashed into the Karpaz Gate Marina tower and came to a halt.
Ms. Bülbül, who was seriously injured in the accident, sustained fractures to both legs, spine, bleeding from the lungs and brain trauma.
She was taken to Famagusta State Hospital after the accident, and following surgery, remains under observation.
The police are investigating the accident.